Skip Navigation
Website Accessibility
Handi Quilter Spring 2019 Educator Event with Kate Quinn
---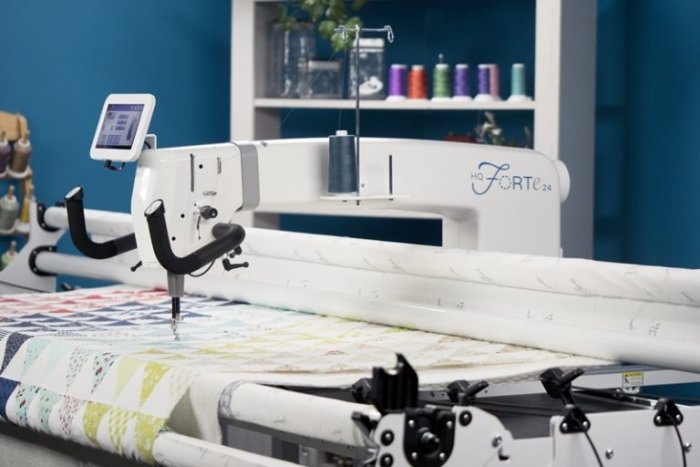 Join Handi Quilter National Educator Kate Quinn at Shawn's Sewing Center for our next longarm quilting event!

Click here to sign up!

Four classes will be offered over two days. Attend all four classes and one of those classes will be free!

Dates: Friday April 5 - Saturday April 6
Time: 9:00 am - 4:30 pm (exact class times below)
Cost: $45 per class, buy 3 get 1 free: $135 for all four classes

Click here to sign up!

Class Descriptions:

CLASS #1: STAND UP LONGARM MACHINE QUILTING BASICS
Friday April 5 - 9:00 am - 12:00 pm

Does longarm quilting interest you, and you'd like to learn more about it? Or do you just want a review of longarm basics? This class removes the mystery of longarm quilting by explaining machine and frame elements and features, how to load a quilt, and vital facts about thread, needles, and tension. Handi Quilter longarm and frame systems come in various sizes for every budget, are user-friendly because they are designed by a quilter, for quilters - just like you!


CLASS #2: RULER ESSENTIALS
Friday April 5 - 1:30 pm - 4:30 pm

If you love precision and consistency in your quilting designs, you will love using design rulers and templates! These handy tools assist in placing designs accurately and stitching the out precisely. Learn to handle rulers and templates safely with the ruler base and Sure Foot, and how to achieve accuracy with the markings. The wide variety of Handi quilter rulers will inspire you to new design heights.


CLASS #3: BEYOND TRADITIONAL FEATHERS
Saturday, April 6 from 9:00 am - 12:00 pm

Beautiful feathers are a mainstay of free-motion quilters everywhere, but sometimes you find yourself ready for something a little different. In this class, you will learn how to build feathering skills to include new shapes and styles of feathers. Then, you'll learn to easily customize them to your quilting projects, both as all over designs and in designated spaces.

CLASS #4: INTRODUCTION TO THE HQ PRO-STITCHER PART 1
Saturday, April 6 from 1:30 pm - 4:30 pm

HQ Pro-Stitcher is an intuitive computer-guided quilting system designed especially for use with Handi Quilter longarm quilting machines. User-friendly and simple to operate, the step-by-step process for each function is easy and fun. Whether finishing your own quilts or considering a quilting business, come see the elegant and precise quilting you can accomplish with an HQ Pro-Stitcher. New owners – start here!